Meet the presenter - introducing David Hooper…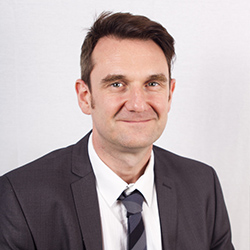 Back in April of this year we were delighted to welcome David Hooper to our team of presenters. David's vast experience made him the perfect fit for two of our popular courses 'The EU-UK Trade Deal & Rules of Origin' and also 'Import & Export Practice and Procedures'. He has shown versatility in being able to deliver the training courses online, face to face and also in-house.
Fantastic feedback to share...
Our delegates have benefitted hugely from David's extensive knowledge of international trade. His role as Managing Director of an organisation that provides advice and consultancy on customs, logistics and the practical issues of trading internationally has led to him receiving this valued feedback. This coupled with his previous experience delivering training courses for the Department of International Trade, makes him the ideal presenter of this challenging and complex subject…
"Very informative training with lots of pertinent information. David is a terrific trainer who includes lots of helpful and relevant examples and anecdotes."
"Really good that we could interact and ask questions, a lot of people seem to be having similar issues to ours. A complex subject explained in a very clear way. Thank you."
"This was the most informative course. Everything was explained really well for me to understand and I have got more out of this course than any course I have done so far. This was clearly down to the teacher and his knowledge."
David has also recently delivered our import/export course in-house to a manufacturing company based in Leamington Spa. The organiser was so pleased with their experience and shared the following excellent feedback with us...
"The course was utterly brilliant. David delivered the training in a humorous and incredibly knowledgeable way to a very high standard. We learnt more about dealing with Brexit in six hours today than the last 6 months combined. Every single person was engaged and interested throughout the event."
What does David say about working with UK Training?
David joined the team at a difficult time, when meeting face-to-face wasn't an option. His helpful and easy-going personality meant that he quickly became an integral presenter, working with the online team to develop and deliver these courses. David is thoroughly enjoying delivering presentations for UK Training. He said...
"It has been a real pleasure delivering training for UK Training. It is an incredibly professional organisation, which allows me to just focus on delivering the training and supporting the clients and businesses. It has also been great to get back into the classroom and meet people properly again. With the changes that have happened since January 1st, businesses now need practical support and training more than ever before on import and export procedures and the courses allow them to ask questions and talk about their own issues and experiences."
How can you benefit from David's knowledge and experience?
To find out more about the courses David presents, simply click the link below or go to this page where you can view his full profile.
If you would like to know more about our in-house training you can click here.