Celebrating 40 years of success...
40 years of UK Training...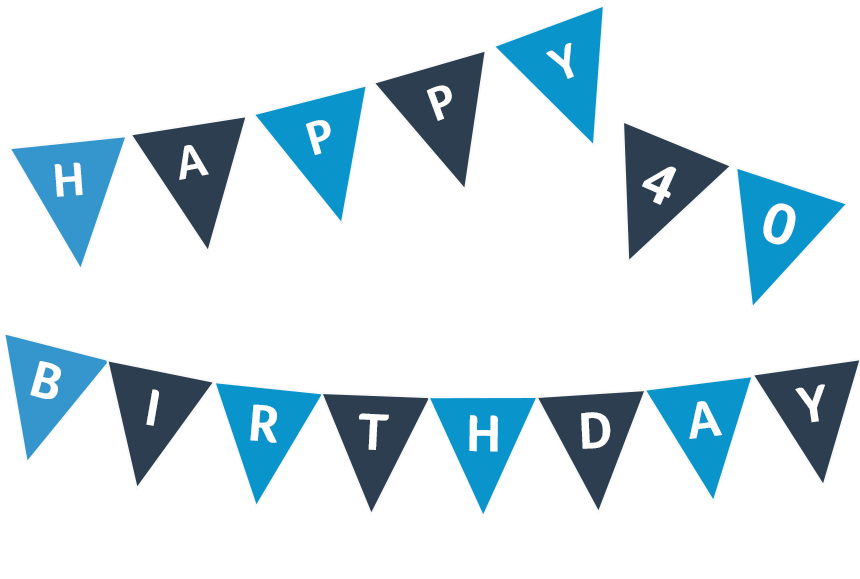 This month we reach a major milestone at UK Training, as we celebrate our 40th birthday. As the Managing Director for all 40 years, this has given me a moment to pause and reflect on this long and successful journey. The changes that have taken place over this time, not just in the training environment but the world in general, have been vast. The training sector can be hugely rewarding, but also difficult - so to still be accomplishing our original goal of delivering high-quality, affordable training which directly helps businesses, is something of which I am immensely proud.
A big thank you...
A big thank you goes to our customers who continue to support us. Over the 40 years, around 50,000 organisations have booked hundreds of thousands of people onto our courses - something we are excited to see continue in the coming years.
Special thanks must also go to all the people who have worked with us over the years. Many of these people are still with us today - none more-so than Judith Donoghue who has been with us from the start and also celebrates 40 years with UK Training.
The journey...
Back in 1982, l stepped out of full-time employment with Deloitte, Haskins and Sells to start a new venture which became UK Training. Initially, with the help of a small admin team in our Liverpool office, I personally travelled around the country delivering just one course - 'Understanding Financial Accounting Procedures and Controls', which I presented for the benefit of IT staff who were responsible for designing and developing financial systems.
In 1984, as demand grew and I had the challenges of overseeing many other areas of the business, I decided to recruit the first freelance presenter to help with the delivery of training. This change also gave us the opportunity to introduce new course subjects and by the late 1980s we had expanded into VAT and Company Law training .
In 1992 my wife and fellow Director, Barbara, joined the team and together we have worked tirelessly to grow the business into what is now, one of the largest business training providers in the UK.
Along with the many highs, we have seen some difficult times with recessions and more recently Covid - but with the hard work and support of our employees, team of presenters and loyal customer base, we have been able to adapt and evolve.
In 2009 we became one of the first training providers to introduce live online training, which has proved to be invaluable in recent times. In the years since, our course offering rapidly expanded, with many new subjects including International Trade, Director and more recently Payroll and Data Protection.
By 2019 we had a team of over 40 expert presenters delivering courses in over 30 locations across the country and online, managed by our excellent course team operating from our offices in Formby.
The future...
Just over ten years ago we appointed three young and ambitious graduates who have taken the business to new heights. Thanks to them; David Smith, Kate Hurst and Helen Brankin; the business has successfully expanded its mix of classroom based training and online courses. We have recently appointed them as Executive Directors to continue taking the business forward - we look forward to many more years of sustainable growth and success.
Thank you once again to everyone that has helped make UK Training a success - here's to the next 40 years!
My best wishes,
Stephen Smith
Managing Director